Two years of magic at USC, conjured at the most critical of moments and in the most spectacular of fashions, had made it possible to believe Caleb Williams was capable of rewriting fate whenever he pleased.
He'd turned the tides so many times for the Trojans, bending games to his favor, that his on-field heroism had become the expectation. Before long, the sentiment was second nature. Whatever hole USC had dug in any given week, Williams would dig the Trojans out.
But by Saturday, the hole dug during the second half of the Trojans' season had grown cavernously deep, too deep even for a generational talent like Williams to climb out of. One narrow loss had turned into two. Then three. Then four. Then, finally, a fifth in six weeks — the last among them an embarrassing 38-20 beating by UCLA on Saturday that soon may prove to be his swan song at USC.
A 6-0 start suddenly had spiraled into a six-week nightmare, and Williams, the star who seemingly could do anything, suddenly was helpless to stop it.
That helpless feeling, one unlike anything Williams had ever been forced to confront, finally came to a head against USC's crosstown rival. Williams still threw for 384 yards and a touchdown against UCLA. He still often made something out of nothing, albeit this time only in spurts as a ferocious Bruins front kept him off balance all afternoon.
All season long that pressure and that expectation had been building and building. Ever since last December in New York, as Williams raised the Heisman Trophy aloft, the spotlight would grow ever harsher, following the quarterback into the fall when his face would regularly appear not only on football broadcasts but also the commercials in-between.
"It's definitely tested him, there's no question," coach Lincoln Riley said last week.
It was a heavy weight to bear, but the quarterback carried it without question, brushing off any suggestions that it might have worn on him, even as those watching closely could tell it clearly had.
"Most people in this room ain't never felt that type of pressure, including myself," receiver Tahj Washington said.
Williams still dazzled all season, throwing for 3,633 yards and 30 touchdowns while adding 11 more on the ground — a stat line that for anyone other than the reigning Heisman winner, would have been viewed as a triumph.
But by Saturday, as the sun disappeared behind gray clouds over the Coliseum, Williams looked like a quarterback ready to ride off into the sunset.
The goals he'd set at USC were long gone, but the finality of his circumstances would now surely sink in. There would be no conference championship, no College Football Playoff, no national title trophy to raise above his head like the Heisman.
He'd come to USC on the highest possible note, the star quarterback who called himself "Superman," brought in to save one of college football's proudest programs. And over two seasons, he'd carried the Trojans as far as he could. It just wasn't far enough.
Whether he returns for one last bowl appearance — or improbably returns for a fourth college season, something he's often alluded to — is still to be determined. Though, the notion that Williams might continue on after Saturday always has seemed far-fetched to those who have watched closely. After all, as the potential No. 1 overall selection in the upcoming NFL draft, few prospects carry the sort of consensus Williams would, assuming he declares.
Williams chose not to address that question Saturday, electing not to speak to reporters after the loss. Days earlier, in his last meeting with the media, Williams wouldn't say if he planned to return.
He'll take the Trojans' season-ending bye and the Thanksgiving holiday to consider whether he should play in the bowl game. But if the quarterback was searching for some semblance of closure Saturday, he wouldn't find any.
Instead, the loss was littered with reminders of why his second season had gone so miserably awry.
Take your pick of disappointments: There was the Trojans' toothless defense, steamrolled by a UCLA offense that barely had moved the ball in a month. Or the smothered ground game, which managed a mere three yards, its worst total since 2018. Or the flailing offensive line, which left Williams running for his life once again.
Buried beneath the frustration were a few bits of that same Williams magic. The poise in a collapsing pocket. The pirouettes to escape pressure. A 74-yard touchdown pass that scraped the heavens on its way to receiver Brenden Rice. Enough to remind how much Williams meant to USC over the last two seasons.
"He came here and took a chance on this place and took a chance on being a part of restarting this program and getting it going," Riley said. "He's a special player."
Most of the USC faithful seemed to sense the end of his special run was near, even before the game ended. As Williams loosened his arm long before the kickoff, a crowd gathered in the far corner of the end zone to watch. One after another, fans young and old lifted their phones, catching whatever last glimpse they could. None seemed to mind when a light rain started to fall on the field. There were only so many moments with Williams like this left, after all.
Williams' most magical moments will surely be immortalized in the annals of USC history, alongside the likes of Leinart and Palmer and other Trojan greats. But as the last seconds ticked away in Saturday's loss, his final few moments would pale in comparison to the career that came before it, an unremarkable send-off for a player who was anything but.
He hugged his mother, then his father. UCLA coach Chip Kelly pulled him in close after that, whispering in his ear.
There was no lingering after that, as Williams skipped towards the student section and put up both hands to wave. Then, he turned towards the Coliseum tunnel, where the rest of his football life presumably awaited.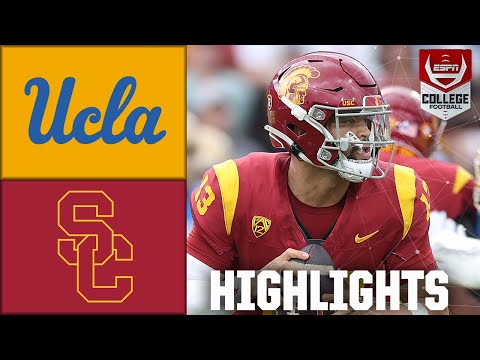 Highlights from UCLA's 38-20 win over USC at the Coliseum on Saturday afternoon.